Don't trust the Denver "big box" stores to install your carpet.
"Big box" carpet retailers in Denver outsource their carpet installation to the cheapest options. They don't care about the quality of their work.
We've heard many complaints from customers about the big-box installers messing up a job or taking shortcuts. One example: a customer from Lakewood, Colorado told us that a Carpet Exchange installer was installing wool carpet on the stairs, and told them "not to worry" about not cutting a hole in the carpet for a heat register. If the customer hadn't insisted, it would have ruined their carpet in under a year.
More than just carpet installation – we care about your health and your flooring.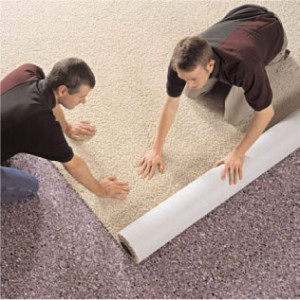 We care. Carpet Exchange, Lowes, Home Depot, and other large retailers will simply tear up existing carpet and lay down your brand new, beautiful carpet over years of dust and grime. They won't care about your health or a squeaky floor.
Replacing carpet or flooring is a great time to clean.
When replacing carpet, you're going to find a fine layer of dust representing years of use. When your carpet and carpet pads are up, it is the best opportunity to remove odors and improve the air quality in your home.
The "big guys" won't think twice about throwing some carpet back over that grime. We offer to sweep your floors for you — or if you want to mop, we give you an opportunity to clean your floors.
Have squeaks in your floor? Fix them while the carpet is up.
If you have a squeaky floor, you will want to fix some of those while the carpet is up. We can arrange our installation schedule so that you can go around and fix some of those squeaks on your stairs or floor. A hammer and nails is all it takes to fix most squeaks, and the quality of your life will immediately improve.
Choose us for the best quality carpet installation in Denver.
Call us today for great prices on all the major brand names in carpet, as well as the best customer service. Choose us for our quality of product and installation.